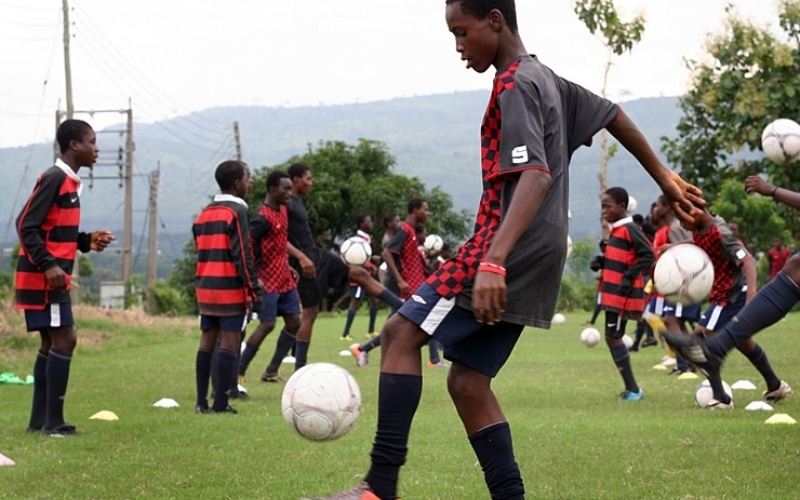 Many football enthusiasts envisage Uganda dominating African football in the years to come. The famous likes of Farouk Miya and Denis Onyango are staples on top bookmakers like Betway (accessible after you have completed your Betway sign up) as punters stake on these Uganda football legends turning up consistently with match-winning moves.
Indeed, Ugandan football is on a meteoric rise. While the nation didn't appear in the recently concluded World Cup, the future is looking promising, with a stream of Ugandan football talents pouring forth.
This is thanks to the top academies Ugandan talents have been able to access at home and abroad. You may be curious: which academies are the best in Africa?
1. Pepsi Football Academy (Nigeria)
Pepsi Football Academy is widely renowned as one of the best in Africa. As the name suggests, Pepsi established the academy in 1994 to groom young talents. It has 14 training centers across Nigeria, with its headquarters in Lagos.
Pepsi academy had a scholarship scheme that saw 13 players fly to the UK to further their studies. One of the upsides of the academy is that it employs proven coaches to handle the kids. It accepts players from six to 18 years old.
An established player to have graduated from the academy is John Obi-Mikel. John Obi Mikel won many titles for English Premier League giants Chelsea and the African Cup of Nations with the Nigerian National team. Other notable graduates include Sunday Mba, Elderson Echeijile, and Soga Sambo.
2. Mohammed VI Academy (Morocco)
King Mohammed VI of Morocco was dissatisfied with the country's progress in football and implemented developmental policies. One of those policies was establishing the Mohammed VI Academy in 2009.
He established the academy to find young talents across the country, implement and sports study curriculum, develop the national football field, and prepare the young players for professional football.
The academy boasts some of the best facilities among football academies in Africa. Graduates of the academy, like Youseff El-Nesyri, Nayef Aguerd, and Azzedine Onuahi, were at the forefront of Morroco's historic run to the 2022 world cup semifinals. King Mohammed VI invested around 13 million euros into the academy.
3. Kadji Sports Academy (Cameroon)
Developing Samuel Eto'o is enough to rank you as one of the best academies in Africa. However, Kadji Sports Academy also nurtured other superstars like Benjamin Moukandjo, Aurelien Chedjou, Stephane Mbia, and Carlos Kameni.
It has strong ties with many of the top clubs in Europe, including Athletico Madrid and Sevilla.
Gilbert Kadji founded the academy in 1995. It trains players from a very young age and transfers them to European clubs. The academy is also a sports and fitness center.
The whole academy has a size of around 40 hectares, most of it stocked with the best facilities to make students enjoy the game.
Combine this feature with outstanding coaches and an effective learning method, and you have one of the best academies in Africa.
4. Katumbi Football Academy (DR Congo)
Moise Katumbi founded Katumbi Football Academy in 2012. The academy has a school where students can study as they play football.
It has world-class facilities and equipment, which helped groom its players into success in various trials and competitions.
Katumbi Football Academy is the official academy of TP Mazembe.
The players it produced for the club have helped cement its status as an African powerhouse. Katumbi Football Academy has also provided players for the Congolese National Team.
The academy partners with top clubs in Africa and Europe and have players playing professional football abroad. It regularly participates in many national and regional competitions and has won many.
With quality coaches handling the students, it's not surprising that it's one of the best academies in Africa.
5. Right to Dream Academy (Ghana)
Ghana is a force to reckon with when it comes to African football. They have reputable academies producing players for the Ghana national teams and European clubs.
However, Right to Dream is up there with some of the best.
Tom Vernon founded the academy in 1999, and its first set of students were a few boys playing football out of pure love of the game.
It gradually grew greater as time went on and began partnering with clubs and international schools in 2004. By 2014, it has many facilities around Ghana, and the academy is an opportunity for promising players to chase their professional dreams.
It has graduated more than 30 professional players. One of its most notable (active) ex-student is Mohammed Kudus, who plays for the Black Stars and Ajax Amsterdam in Europe.
Other academy graduates include Godfred Saka, Kamaldeen Sulemana, and Thomas Agyepong.
6. Mimo Sifcom Academy (Ivory Coast)
One of the most prolific Academies in the world is the Mimi Sifcom Academy in Ivory Coast.
It's the official academy of the ASEC Mimosas and has been producing players for the club since the academy's inception. Additionally, the academy partnered with top European clubs to give their players an avenue to play on the continent.
Roger Ouegnin and Jeam-Marc- Guillou founded the academy in 1993. The academy also ensures that its students get western education to have a fallback option if football doesn't work out.
Some of the most notable graduates of the academy include four-time African Player of the Year winner; Yaya Toure, his brother Kolo Toure, Gervinho, and Salomon Kalou.
Download the Howwe Music App