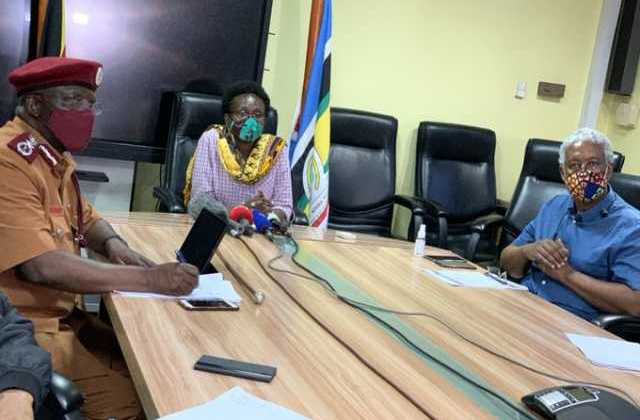 99 new COVID-19 Cases and two new deaths have been confirmed by the Ministry of health.
These are part of the samples tested on Sunday 23rd August 2020. According to the Ministry, the deceased include a 35 year old female trader from Kikuubo, Kampala and a 36 year old male from Kisenyi, Kampala. This brings the number of deaths to 22.
The new cases include; 41 alerts, 4 truck drivers, 43 contacts, 5 health workers and 6 returnees.
The 84 contacts and alerts include; 49 from Kampala, 8 from Kikuube, 5 from Gulu, 4 from Sironko, 3 from Lamwo, 2 from Lira, 2 from Luweero, 2 from Tororo, 2 from Yumbe, 1 from Mbale, 1 from Abim, Amuru 1, Bundibugyo 1, Kotido 1, Kiryandongo 1, and Namisindwa 1.
The 5 health workers include; 2 from Kampala, 1 from Mbale, 1 from Kikuube and 1 from Gulu.
6 returnees include 5 from Saudi Arabia and 1 from Kenya. While the truck drivers include; 1 from Padea, 1 from Malaba, 1 from Busia and 1 from Vurra.
The health Ministry has also designated 9 COVID-19 sample collection sites in Kampala including; Kiswa Health Centre IV Bugolobi, Kisenyi Health Centre IV, Kibuli Hospital, Kawaala Health Centre IV, Kitebi Health Centre IV, Nsambya Hospital, Kiira Health Centre IV, Kasangati Health Centre IV, and International Hospital Kampala.
The ministry noted that testing for alerts and contacts is free of charge for all individuals accessing Government health facilities and that anyone asking for payment should be reported.
Uganda currently has 2,362 confirmed COVID-19 cases, 22 deaths and 1,248 recoveries.
Download the Howwe Music App