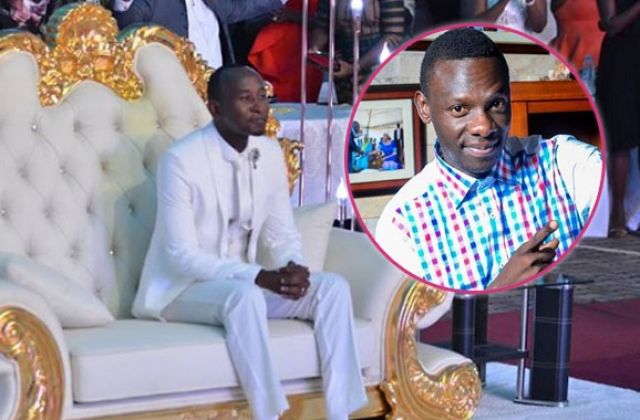 The ongoing Prophet Mbonye saga is not about to end. Pastor Wilson Bugembe has joined other Ugandans punching holes in the legitimacy of Mbonye.
In a long post on his Facebook page; Pastor Bugembe calls for calm. He advises Ugandans to be patient and give everything time. If Mbonye is not a genuine prophet, He will just disappear. He says that God uses people in different ways.
However, Pastor Bugembe reserved his comments which insinuated that he doubts Mbonye is genuine. Controversial pictures of Mbonye sited on a lavish chair has been making rounds on social media platforms as he allows his followers to kiss his feet
Pastor Bugembe posted;

Hmmm! comment still loading....haha !

Anyway, "Leave those men, don't fight them, you may FIGHT with them and fight with God, For you will NOT win, But if they are Not from God, They will disappear and you will see them No more-Gamaliel's word of advice to friends who were trying to Stop the apostles from preaching Christ.

#Lesson: Time is the True Judge to all of us who say we are "servants of God"

#Advice: Never be quick to judge BUT still Never Rush to join them! Many have come and many will come, we all came! Time is the judge like a detector is to a fake note.

#Time!

(Please Read Acts 5:38-39 to get the full story)

Have a blessed day. #Students, Campus move coming soon. 23th September here @ The worship House

#TimeWillTell.
Gals Betting: Get 10% Refund on All your Losses
Click Here