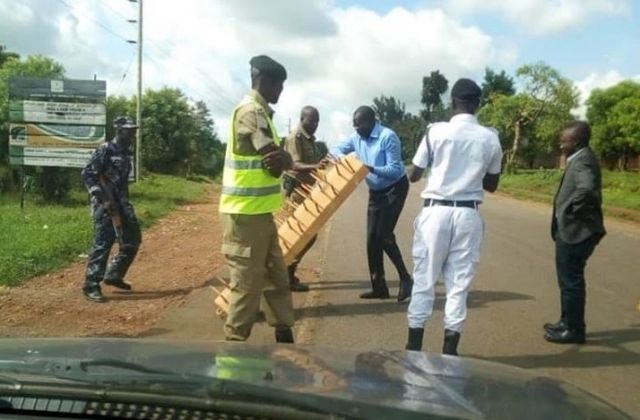 Drama ensued this afternoon when officers of the Uganda police force blocked Forum for Democratic Change, FDC President Patrick Oboi Amuriat from attending a meeting organized by party leaders in Kasese.
It all begun in the morning when POA and Busongola North MP William Nzoghu were blocked by police at Rwimi on the way to attend a meeting of party leaders organized by Chairman Saulo Maate.
The party leaders were also expected to hold public rallies at Kiisnga Town council and Karambi play grounds. However, police could not allow this.
After being blocked at Rwimi, POA circumvented the police and passed through the mountains, got on a boda boda and went to the party offices. He was however arrested by the police, but on reaching Fort portal as they headed back to Kampala, the police vehicle ran out of fuel and they were forced to release him unconditionally.
The party president, who has made it known in the past that he is pro-defiance, has in the last one month been blocked from visiting the districts of Kumi, Bukedea, Soroti and now Kasese, for such party meetings.
The party argues that the 2013 Public Order Management Act does not in any way stop political parties from doing their work. FDC blames the police of breaking the law.