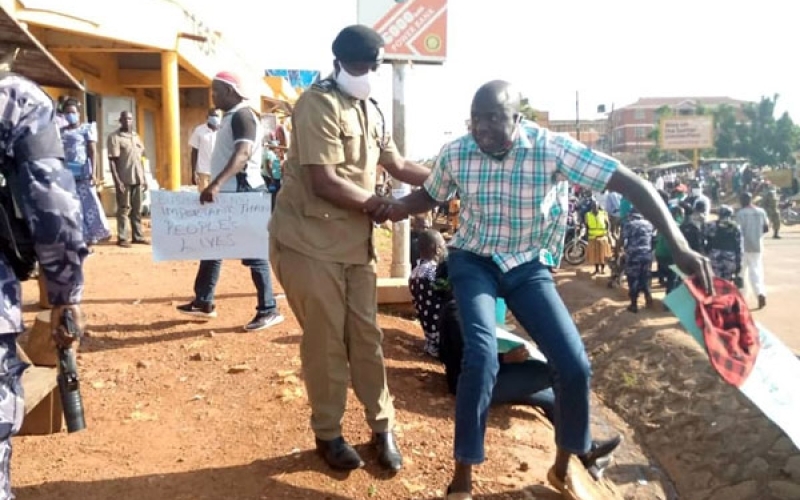 Troubled former Aruu County member of Parliament, Samuel Odonga Otto has surrendered himself to the police. He walked to the Aswa River Region Police Headquarters in Gulu City on Monday morning, where the police received him.
This followed a five-day manhunt by the police for Otto, who was accused of aggravated torture and robbery in the Pader District.
The former lawmaker, along with a group of vigilantes, allegedly beat and severely injured three charcoal businessmen in the Atanga sub-county in the Pader district on April 30.
Otto denied the allegations and claimed that he was not in the Acholi Sub-region on the date of the alleged incidents. He decided to hand himself in after learning from social media that the police were searching for him.
According to Otto, the Acholi Sub-region is experiencing alarming levels of environmental degradation, with visible impacts of climate change being felt in the region. Despite efforts to campaign against illegal charcoal trade, some police officers in the region are promoting the vice by escorting perpetrators after receiving bribes.
Last week, three people lodged complaints of torture and robbery at Atanga Police Station against Otto and unknown vigilantes still at large. Police identified the victims as Charles Ssemanda, Yusuf Wagwana, and Takafa Erisata, who sustained severe body injuries.
The Aswa River Region Police Spokesperson, David Ongom Mudong, said on Monday that it was unclear whether Otto would record a statement or only meet the Regional Police Commander, Damali Nachuha. Mudong also noted that Otto has other cases to answer, including inciting locals to loot charcoal from a truck in the Pader District.
Otto launched a controversial approach to implement the charcoal ban in the region in February using local vigilantes under Ribbe Pi Paco (RPP), an environmental youth advocacy and activism group. The group stormed several charcoal hotspots in the region, where they destroyed logs and charcoal and intercepted trucks loaded with charcoal on major highways.
In February this year, the Environment Ministry banned all districts in the Acholi Sub-region from issuing documents facilitating the commercial production, trade, and transportation of charcoal following an outcry on the alarming environmental degradation.
Download the Howwe Music App