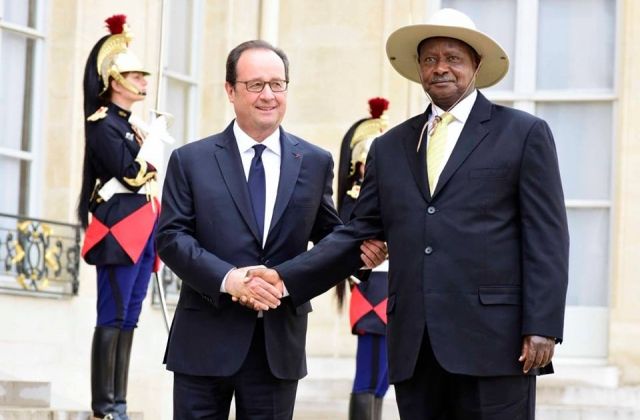 President Yoweri Museveni has this afternoon, met with President Francois Hollande for bilateral talks at the Elysee Palace in Paris.
Museveni thanked his counterpart for inviting him. "Our countries have committed to strengthen our trade, investment & security relations."
He arrived in France on Sunday evening for a 2 day official visit. Upon arrival, president Museveni met 14 African ambassadors based in France and urged them to market Africa as a trade destination.
Earlier today, the president met over 50 investors in Paris, France under their group, MEDEF, which has 750,000 member firms and urged them to invest in Uganda since ingredients to promote trade; producer, buyer & infrastructure, are in place.
"Uganda & Africa's population is increasing & with it, it's purchasing power. Our demand is backed by ability to pay. Investors in Uganda have a market of 40 million people, 160 million at EAC level and 700 million at COMESA" the president told investors.
Museveni also offered condolence to H.E Hollande over the recent terrorist attacks in France. "Pseudo-ideology that fans terrorism must be fought."
"I am glad that President Hollande has accepted my reciprocal invitation and Uganda looks forward to hosting him."