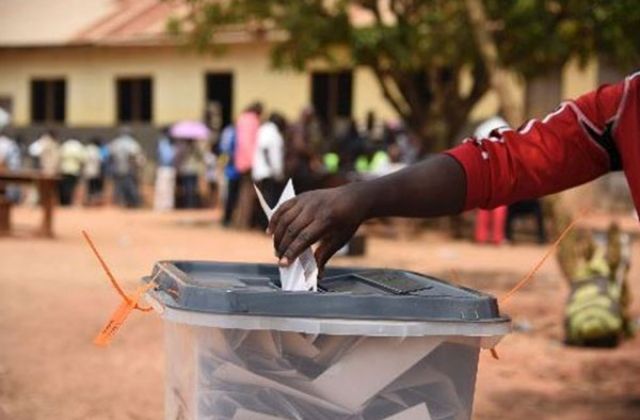 As presidents of Arua Municipality go to polls to elect a member of parliament today, all voters have been urged to come out and exercise their constitutional and democratic rights to freely cast their votes for their preferred candidates, and the general public to freely go about their business without fear.
The call was made by internal affairs minister Gen. Jeje Odongo while making a statement on the Security Situation in Arua Municipality considering Monday fracas that left one of the contestants and several MPs supporting him arrested. One person was also killed during the scuffle between members of the Kassiano Wadri campaign and police.
In his statement, Gen. Odongo said that on Monday afternoon as the president was going to Boma grounds for the rally for NRM candidate Nusura Tiperu, there was an incident where a grader, Registration number UAP 064R wrapped in red ribbons obstructed his motorcade at a place called 'transport Junction Road. Red was a color for Mr. Wadri's camp. He is an independent candidate who shockingly brought both NRM and FDC to their knees with huge crowds during the campaigns.
However, he may be unable to vote for self considering he has been in police custody since Monday evening, while his chief campaigner, Hon. Robert Kyagulanyi, alias Bobi Wine remains in hiding. His wife Barbara while speaking to BBC on Tuesday said she did not know the whereabouts of her husband, but said he was not in police custody.
The minister further explained that security forces impounded the grader and a -tundra vehicle registration number UAJ 416K in which Yasin Kawuma's dead body was found. The vehicles are currently at CPS Arua. Kawuma was Bobi Wine's driver.
According to Gen. Odongo, police arrested several members of parliament including, Paul Mwiru, Gerald Karuhanga, Robert Ssentamu Kyagulanyi and former MP Michael Mabikke in connection with the incidents mentioned above to help in the ongoing investigations.. However, witnesses and Bobi Wine's wife maintain that he was not arrested and is in hiding. The minister also confirmed arrest of the candidate Kassiano Wadri
"We caution the public that it is criminal to obstruct and or attack the presidential motorcade as it contravenes the Traffic and Road Safety Act as well as provisions in the Penal Code Act. The MPs are in the policy custody helping out on investigations" Odongo warned.
However, legislators poked holes in the minister's statement. Workers Mp, Sam Lyomoki argued that "If a mere parliamentary election can attract such violence what about that presidential election where I will be able to remove the president?" Lyomoki's submission left the whole house in laughter.
Also, Hon Komaketch Lyandiro told the minister that his presentation needed some punch work, as what he presented before the house was different from what is on the ground. "The ministry of internal affairs needs to review security of MPs; government needs to review the status of freedom of assembly in Uganda" he said.
Hon Wamanga Jack the Mbale legislator wondered why Gen. Odongo's statement left a lot of questions including someone getting killed and no one is arrested. "But our colleagues are being kept somewhere, Madam Speaker, we ask you to intervene and have our colleagues released" Wamanga said.
Hon Muhammad Kivumbi also wondered how a tractor blocked a presidential motorcade, he adding "during the just completed Bugiri elections police cordoned the hotel where we were with Kyagulanyi, in fact it is the mob that saved us from police. I suspect more danger" Kivumbi added.
Hon Kamusiime Pentagon the Butemba County MP suggested that elections for new municipalities be held in the next term during general elections to avoid similar episodes of violence.
Speaker Kadaga adjourned the house to today Wednesday August 15 2018 when parliament is expected to continue deliberating on the issue.