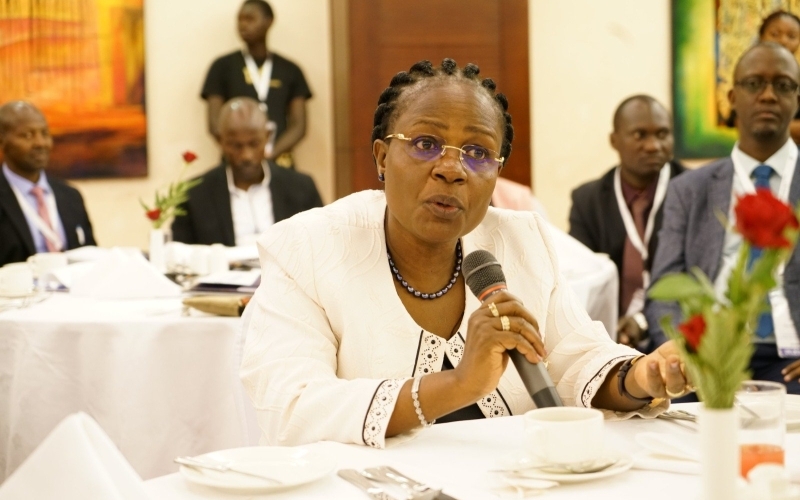 Seven Members of Parliament attached to the Karamoja Parliamentary group have tabled a notice to censure Minister Mary Goretti Kitutu over the mismanagement of relief items.
In a letter dated February 22, 2023, they sent a letter to the Clerk of Parliament, notifying the clerk to Parliament Adolf Mwesigye on grounds under which the Karamoja affairs minister should be denounced.
Among the MPs are Baatom Ben Koryang, Moses Aleper, Faith Loru Nakut, Ken Peter Lochap, Ochero Jimbricky Noman, John Bosco Ngoya, and Ilukol Philiphs Lokwang.
They accuse the Karamoja minister of abuse of office, misappropriation of funds meant for relief items for vulnerable communities and willful violation of the oath of office.
"The Minister for Karamoja Affairs has failed to deliver iron sheets and other supplies meant for Karamoja to support the ongoing disarmament exercise. These supplies were financed through the supplementary budget that parliament passed in December 2021," reads the notice in part.
They want to present a notice of motion on the floor of the August House.
The Speaker of Parliament last week tasked the parliamentary committee on Presidential Affairs to investigate Ministers for Karamoja over the mismanagement of relief proceeds meant for locals in the sub-region.
Speaker Rt.Hon Anita Among directed the committee to look into the allegations and report back to the house in two weeks' time.
Parliament passed a supplementary budget of 39 billion shillings to support needy communities in Karamoja region, Shs 22 billion was meant to purchase goats, while Shs 5 billion was for 100,000 iron sheets for disarmed youths.
Mary Goretti Kitutu is on the spot for diverting iron sheets and goats meant for needy locals to districts in Bugisu sub-region.
Karamoja MPs claim over 50.000 iron sheets donated by the office of the Prime Minister for Karamoja were spotted in Manafwa and Namisindwa districts.
They also claim monies budgeted for food and goats was grossly mismanaged as vulnerable communities failed to benefit from this project. The items were meant to reach out to needy households, religious institutions, schools and health facilities.
The Mps had previously under their association, the Karamoja Parliamentary group petitioned the office of the Speaker to order a forensic audit into the allegations and procurement errors.
Download the Howwe Music App