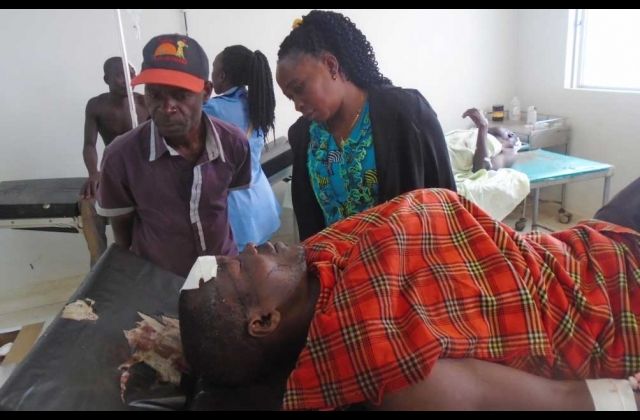 The death toll in Lwengo and Bukomansimbi districts murders has reached 6 after one of the victims rushed to the hospital died this morning.
Lameck Kigozi, the Greater Masaka region police spokesperson who could not readily give us the names of the deceased said he had just received the details and would get back to us.
Five People including a retired police officer were killed and 12 others rushed to different clinics and Hospitals after being attacked and hacked by unknown thugs in Lwengo and Bukomansimbi districts.
The incident happened between midnight and 2am as Ugandans were celebrating the New Year. Unknown assailants armed with guns, pangas and clubs moved from village to village robbing and hacking people.
The attacked villages are Kiryasaaka located in Kkingo Sub County in Lwengo district, Kisojjo, Kyabagoma and Kyamabaale in Kibinge Sub County in Bukomansimbi district.

Those killed are identified as Denis Ssebugwawo Lumala, a retired police officer who was hacked several times on the head. Others are Jane Nantale, John Sseremba and Gonzaga Kayemba and another unidentified man. All these were killed in Kisojjo, Kyabagoma and Kiryasaaka. All these villages are neighbouring each other.

Ssebugwawo's daughter, 15-year-old Nancy Nambuya, is admitted at Masaka regional referral hospital with head injuries.

Dick Muwanga, the Kkingo LC3 Chairman who rushed to Kiryasaaka trading centre, says at least seven homes were attacked in this area leaving several injured.

Kigozi told Howwe.Biz that the inspector general of police Gen. Kale Kayihura who was in the area yesterday is expected to return today for burials and guidance on security matters.