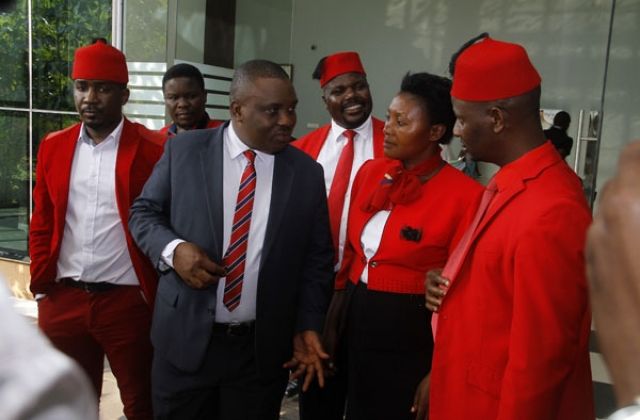 A panel of five judges led by the Deputy Chief Justice Alfonse Owiny-Dollo have kicked off hearing of the Constitutional Court petition challenging the amendment of Article 102(b) to remove presidential age limits gets underway at Mbale High Court.
The other justices on the bench include; Remmy Kasule, Elizabeth Musoke, Cheborion Barishaki and Kenneth Kakuru.
The hearing which commenced this morning started with submissions of the petitioners including Uganda Law Society and Kampala Lord Mayor Elias Lukwago, who represents a section of Members of Parliament challenging the amendment.
The hearing stems from December 20, 2017, when Parliament passed the Constitutional Amendment Act, 2017 effectively removing presidential age limits provided for under Article 102(b) of the constitution. In the same amendment, parliament removed age limits for local government leaders, restored presidential term limits which had been removed in September 2005 and extended the term of office of the president and parliament from five to seven years.
It was a climax to an acrimonious three-month debate that saw chaos inside parliament including security forces invading the chambers to remove some of the MPs who had been suspended for what Speaker Rebecca Kadaga called indiscipline. It's on this basis that the amendment is being challenged in court.
Now, the petitioners are challenging the legality of amending the Constitution in regard to age limit for a presidential candidate, the presence of security personnel in Parliament as well as the extension of the terms for both the President and MPs from five to seven years.
Stephen Ahweera, the district Police Commander, has assured Mbale people of maximum security during the hearing of the consolidated constitutional petitions that are challenging the amendment.
Ahweera added that they expect people from within the region and far to follow the hearing.
By 8:00am this morning, several opposition leaders, led by their Lawyer, Erias Lukwago had arrived in Mbale, all geared up for the hearing.