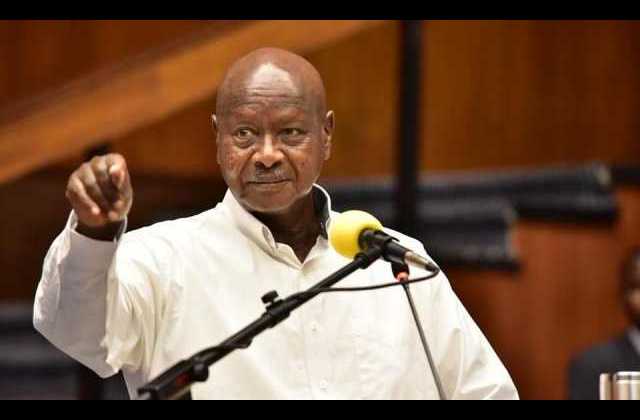 The Uganda Police Force should not have arrested ailing Mityana Municipality MP Francis Zaake, if they did not plan to arrest others committing the same offence as he did, President Yoweri Museveni has said.
Zaake was arrested nearly two weeks ago for distributing some small rice and sugar to his constituents, which was against the presidential guidelines on COVID-19. During his first televised address on the pandemic, President Museveni directed that all individuals especially politicians and companies take all their donations to the National or respective district task force instead of distributing it themselves.
He directed police to arrest such people found going against this guideline and charge them with attempted murder as they risk spreading the virus, but that if any of the persons dies of the disease, they should be charged with murder.
Zaake's scheme had gone unnoticed until he decided to rat himself out on Twitter, explaining publicly what he was doing and taking pictures carrying the food/exhibit he was giving out.
"I have been clandestinely giving out relief food to my constituents, this, I will not stop doing. In the same spirit, today we have successfully shared more food items with Mityana. It is my conviction that, we still deal with starvation without thieving from the poor" Zaake naively tweeted.
Like a person that did not understand the meaning of the word clandestine as he wrote, the young MP who is always in trouble seems to have dug his own grave as authorities immediately swooped in and arrested him. He has since been brought to Court but proceedings were stopped as he was allegedly too sick.
Court asked police to take the legislator to the hospital, but according to the IGP Martin Okoth Ochola, he arrogantly refused and was taken to Kireka SIU where is was being held by Monday.
Zaake allege that he was tortured by officers who went to arrest him. He live tweeted the arrest.
"The tormentors have broken into my home, they are breaking every door of my house searching to arrest me for the crime of sharing food with the startving people. Sad!" he wrote.
On reaching the truck, the officers allegedly held together and tied Zaake's hands and legs with ropes and pushed him under the open-air seats at the back of the 999 patrol.
Now, president Museveni says it was wrong of police to arrest Zaake and leave the other MPs who belong to the NRM to go on distributing money.
"How do you arrest Zaake for interfering with the Anti-Coronavirus war and you leave these ones of the NRM including Ministers?" Museveni wondered.
He said the country will have to learn from this experience and asked that this is the last warning for all politicians seeking cheap popularity by distributing food to the people.
Ssembabule Woman MP Haniffa Kawooya and Minister for lands Betty Kamya are some of the other politicians that have been caught on Camera personally distributing people, yet police did not move to arrest them.