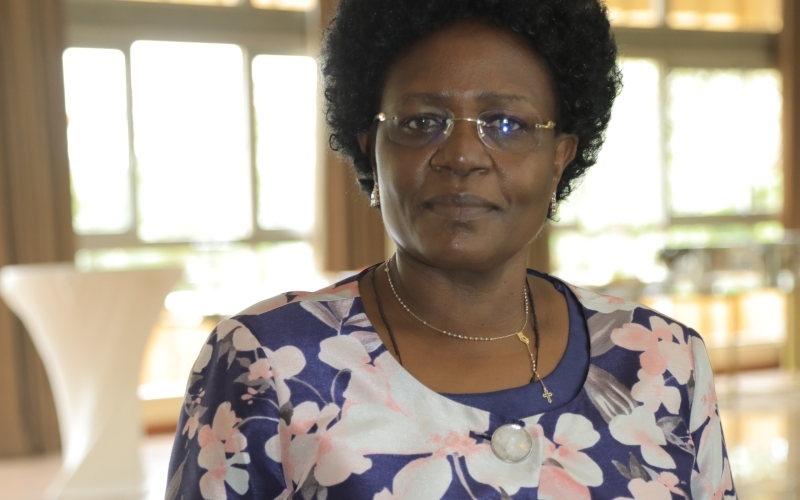 District Chairpersons in the Karamoja sub-region have joined their Members of Parliament calling for the immediate arrest of the Minister in charge of Karamoja Affairs Mary Gorreti Kitutu to aid the investigations into the alleged theft of iron sheets.
Minister Kitutu is on the spot for allegedly diverting iron sheets that were procured to support the vulnerable groups, Interest groups, Institutions and Reformed Warriors in Karamoja Region.
The iron sheets were instead found in the home of the minister's mother during an operation mounted by the Internal Security Organisation (ISO), the Police and the State House Anti-Corruption Unit in Namisindwa district.
In the aftermath, the minister's mother, brother and nephew were arrested while the Office of the Prime Minister directed the Department of Karamoja Affairs to submit accountabilities for the iron sheets that were released as investigations into the matter continue.
But Nabilatuk District Chairperson Paul Lokol said that it is not just to see the Minister still holding office after the scandal. He was addressing journalists in Moroto District on Thursday.
Amudat district Chairman Joseph Lobot noted that the delays in the distribution of iron sheets were an indication that there was a fraud. Lobot said he was sceptical when they distributed the goats and it took more than six months for the iron sheets to be delivered, yet they were procured under the same project.
He added that after the Karamoja ministry failed to account for the iron sheets, they started involving the district Chairpersons to cause confusion during the distribution exercise. Lobot says that this is an indicator that many programs meant for Karamoja are diverted to develop different regions while Karamoja remains underdeveloped.
Ismail Mohammed, the mayor of Moroto municipality accuses the Minister of being arrogant and disregarding advice from the area leaders. Mohammed explained that they tried to express their interest to work with the minister but she kept avoiding them until they took a back seat to Karamoja government programs.
Napak District Chairperson John Paul Kodet cautioned the government against using corrupt officials who want to use the region as a ladder to develop other places. Kodet said the act of diverting relief items is a shame to the government and equally called for the immediate removal of the Minister from office.