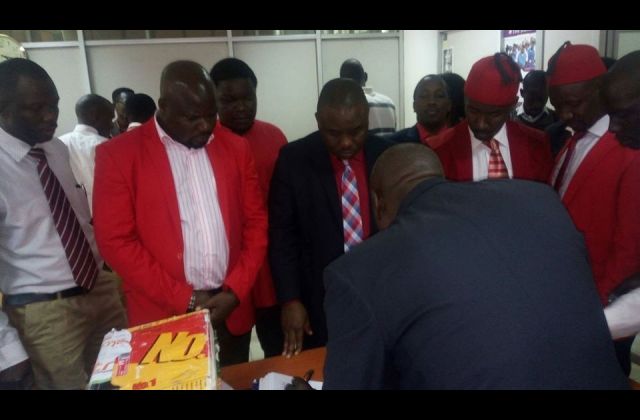 Police has arrested and whisked to Kiira police station, Ndorwa East MP Wilfred Niwagaba and Medard Lubega Ssegona of Busiro East.
The duo was arrested outside parliament after Niwagaba showed up with a court document whose particulars are still unknown, that he intended to serve to the speaker.
Niwagaba said it was a court summons, asking the speaker and attorney General to appear before the aforementioned court by 2PM this afternoon.
The mission to arrest the duo was led by Kampala DPC Joseph Bakalekke who claimed Niwagaba showed up with six suspended MPs who were demanding access to the house.
The six MPs, Gerald Karuhanga, Mubarak Munyagwa, Allan Ssewanyana, Ibrahim Ssemujju Nganda, Akol Anthony and Jonathan Odur this morning dragged Speaker Rebecca Kadaga to the High Court for illegally suspending them to the house.
The petitioners' lawyer Erias Lukwago said they wanted the speaker to show up with the attorney general by 2PM, so that the matter is discussed and disposed of today, so that his clients can return to the house and vote.
The six members were suspended on Monday for disrupting a parliamentary sitting. However, these claim it was illegal as the speaker pronounced their suspension moments after suspending the house.
'The speaker took some decisions that we consider to be unconstitutional, illegal, null and void, and they could not stand and go unchallenged" Lukwago argued.
Gals Betting: Get 10% Refund on All your Losses
Click Here