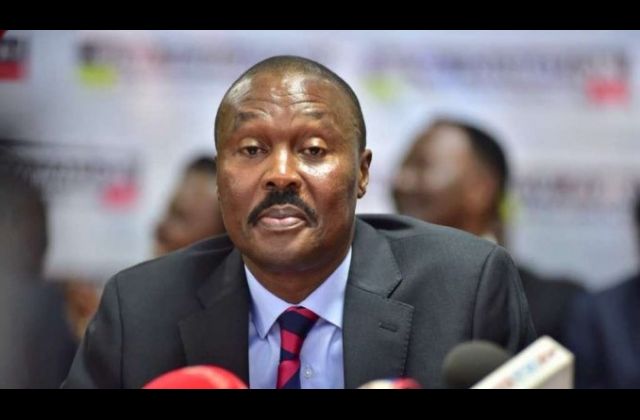 When former Forum for Democratic Change, FDC President Gen. Mugisha Muntu threw in a towel and walked out of the party last week, many thought it would remain business as usual in the once biggest opposition party, but this seems not to be the case.
On Monday, Gen. Muntu's nemesis and party secretary general Hon. Nathan Nandala Mafabi penned a letter demanding that all party mleaders across the party pledge allegiance to FDC within 14 days or be written off.
Mafabi says this membership audit is aimed at weeding out all those members that could have decided to follow Gen. Muntu in his New Formation.
"This is to request all party leaders and elected officers on the party mandate to indicate to the party in writing, whether they are still members of the Forum for Democratic Change within 14 days. Non response will be treated as renouncement of membership" part of the letter reads.
According to the Budadili MP, some party members have already expressed intention of pursuing alternative political directions, since the departure of the General.
One of such leaders is Kyazze Kasimu the Former party secretary general Makindye District. Hon. Mafabi wrote to this gentleman on Tuesday, demanding that he returns all party properties including but not limited to; Cups, Tables, Chairs and important party documents among other properties.
Mr. Kyazze is said to have quit the FDC. "I therefore call upon your cooperation as you hand over to the Makindye Chairperson Mr. Kizito Livingstone and witnessed by Nabayizi Gertrude the Regional officer Central by 4th October 2018" The letter reads.
During the weekly party press conference, Hon. Ssemujju Nganda the spokesperson said the party would miss Gen. Muntu just like others who have left in the past. Adding that Muntu, will be missed like the founding chairperson Dr. Sulaiman Kiggundu who died in 2008 and his successor Hon. Sam Kalega Njuba who also died in 2012. He quotes the late Njuba as saying that "leaving is a natural consequence that cannot stop the party from going ahead."
He then pleaded with FDC leaders to be decent enough if they no longer want to be associated with the party and leave so that others can take on their positions.