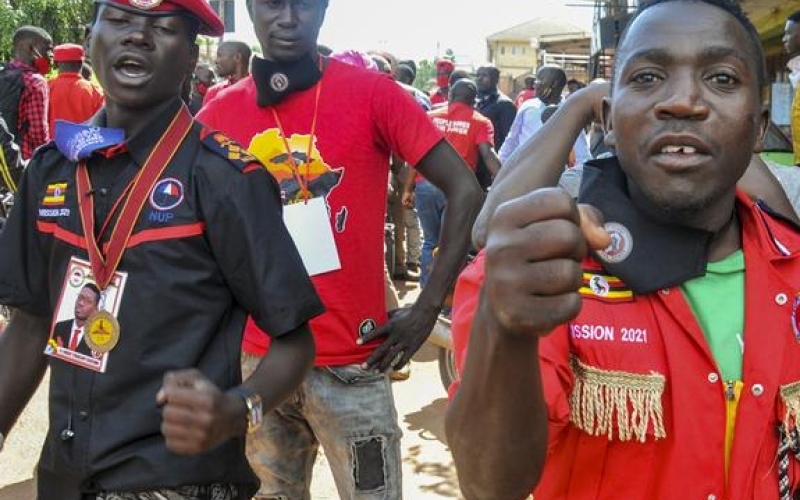 13 NUP supporters are in Police custody in Jinja for allegedly participating in an unlawful assembly. The officers also impounded three vehicles used by the supporters for transportation.
ASP James Mubi the PRO Kiira Region says the incident happened at the YMCA education centre in Jinja city on Sunday, January 22, 2023, at around midday when the supporters traveled from mainly Iganga municipality, Iganga district, Kampala, Busia and other parts of the country supposedly to hold prayers.
However, Mubi says Police received reliable information about the incident and responded quickly to the scene where they found over one hundred people seated in two big tents.
"Police politely requested them to disperse peacefully but in vain. This prompted the police FFU team under the command of Zonal Commander ASP Julius Turyamubona to use teargas as a mechanism to control the riotous crowd. We also impounded three of their vehicles pending verification of the ownership and registration number plates. These include; Mercedes Benz UAH 996F, Toyota Mazda UBC 667C and Coaster UAZ 918C and these have been towed to Nalufenya police parking yard. Chairs and tents have also been exhibited," says Mubi.
Those arrested have been identified as: Grace Ndizawa, Ben Kabaka, Hussein Kato, Ramadan Kakaire aka BloodMo, Joan Nakiberu and Frank Opio.
The other suspects are; Abu Tenywa, Gloria Namwajje, Yiga Frank, Frank Opio, Edemu Brian., Julius Nyerere and Muwarid Khalid.
Mubi says inquiries are ongoing and as soon as investigations have been exhausted, the suspects will be produced before courts of law.
They are also hunting for some other supporters who run away and evaded the arrest.
The NUP Party President Robert Kyagulanyi alias Bobi Wine said that their members had gathered peacefully when the police attacked them.
Download the Howwe Music App