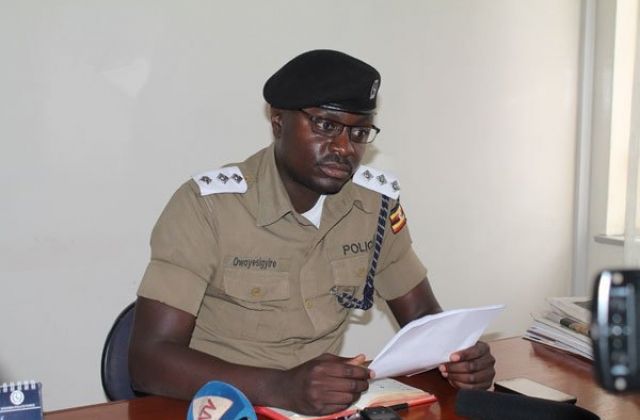 Police in Kampala are investigating the murder of a two year old baby whose body was found in a septic tank on Monday evening.
Luke Owoyesigire the Kampala metropolitan police spokesperson identified the deceased as a 2 year old Kabali Alton whose death was first reported at Kikumbi police post.
According to Owoyesigire, the deceased's parents had organized a birthday party for him, only for the child to disappear. After searching the entire neighborhood, Kabali was found lying dead in a septic tank.
While the parents and neighbors thought the child had drowned, a postmortem report showed foul play. Investigations are ongoing at Katwe police station to find the killers.
Meanwhile, the police in Entebbe have in custody a woman identified as Asasira Lillian for allegedly killing her husband. The deceased is Owori John Mike 32, a resident of Kitala in Wakiso district.
Owoyesigire says Asasira stubbed her husband after suspecting him of sleeping with their house maid. He died on the way to the hospital. The wife is facing murder charges.
Police also recovered the body of Tumwesigye Dennis Zinsanze 36, a casual worker and resident of Kisubi seminary. The body was found dumped along the road to Nabinonya beach.
Police officers at Kisubi police station recovered the body and taken it to Mulago city mortuary for postmortem, according to the KMP Police spokesperson, they suspect that the deceased could have been killed elsewhere and the body brought to this particular place.
An unidentified body of a man was also recovered along the Northern by-pass in Butukirwa zone, Nakawa division Kampala district. The body was discovered this morning.
The deceased was wearing a black trouser, a jacket, and is suspected to be a boda boda rider. He had a wound at the back of his head suspected to have been hit with a blunt object. His body has also been taken to mulago mortuary as police await for someone to claim it.
Police spokesperson Emilian Kayima advised parents to keep an eye on their children especially during the festive season and throughout the holiday. "We need to implore parents to take full charge of the situation at home, talk to your children on security. Somebody can kidnap your child, can parents discus with their children about the indicators of danger!" he suggested.
Gals Betting: Get 10% Refund on All your Losses
Click Here